Ahmedabad-based Bagri says she won the trials for Asian Para Games but there is no clarity as to who will give her permission.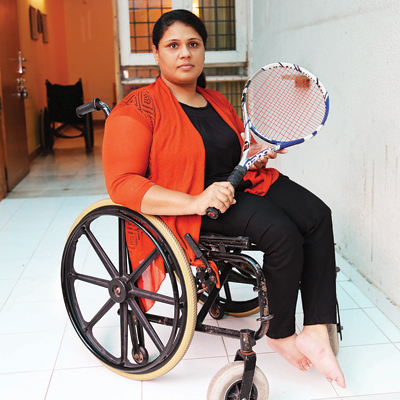 In a case of utter apathy and lack of co-ordination shown by various bodies that control the sport, Ahmedabad-based wheelchair Tennis player Madhu Bagri has been made to run from pillar to post to get the permission to participate in the upcoming Asian Para Games in Incheon, South Korea.
Bagri, who was afflicted by Polio when she was 18-months-old, claimed she was given verbal assurance after she won the 'trials' conducted to select players for the Asian Para Games.
Paralympic Wheel Chair Tennis Federation (PWCTF) took the unique initiative under the banner of Paralympic Committee of India (PCI) to encourage wheelchair tennis players across the country. The bold step taken by PCI enabled the 39-year-old Bagri to dream of representing the country in continental events like Asian Para Games. For that she sweated it out and had to spend considerable sum of money.
Apart from the usual costs involved like buying racquets, tennis balls, paying the coaches and for access to courts, Bagri had to pay a whopping Rs 3 lakh to get a specially made wheelchair that is helpful for differently-abled athletes like her.
Daughter of a businessman, Bagri now lives on her own and used to work in a finance company till 2012. "I left my job to concentrate on my tennis," she said.
Is it feasible to quit job and play tennis? "I had made some good investments," she quipped. "That is one of the reasons why all this uncertainty over my participation hurts me because I have spent a lot of money."
On 9th August 2014, PCI conducted selection trials at Bangalore. Bagri left no stone unturned. "When I received the communication from PCI, I was jubilant. Semifinal finish in Sri Lanka Open couple of months earlier had boosted my confidence. I gave more than 100 per cent. And the result was, I emerged winner," recalled Bagri.
Unfortunately, that was the only time she got a positive response from PCI. "Virtually everyday, I was mailing or calling them to get the details. But I was sent from pillar to post," said Bagri.
However, PCI claims that it has no role to play in the issue. "I have not received any thing in this regard. Moreover, not PWCTF or PCI but the All India Tennis Association (AITA) is the body which takes a call. Until and unless a player is handed a letter of participation, we can't say he or she is selected," remarked Rajesh Tomar, president of PCI.
The Paralympic Committee of Gujarat (PCG) swung into action and intervened but it proved futile. The state body has termed the turn of events unfortunate and betrayal of trust.
"Bagri not only attended selection trials but was also given a verbal assurance about her participation in Asian Para Games. So, it became our duty to follow up which we did. The trials with two women and four men players were attended by PWCTF president Rajesh Lamechwala under the aegis of PCI. That means trials were authentic. But now nobody is responding. PCI puts the onus on AITA and vice-versa. Consequently, a player is suffering," said Bharat Thakkar, chief co-ordinator Paralympic Committee of Gujarat.
When dna contacted the AITA CEO Hironmoy Chatterjee said that the decision on Bagri is pending. "We are meeting on September 12 (Friday) to take the final call."
However, all the confusion and agony has left Bagri disappointed. She said, "My contention is how can they do this? It is like cheating. I have invested energy and money. Now when I look back, it all seems like a big waste."



Source : DNA , 11th Sep 2014