Ability khabarnama section features a roundup of the latest health, medical, and world disability news focusing on up-to-the-minute breaking news, video, audio and feature stories from around the globe. International news items and articles include updates on disability legislation and coming health and disability events, as well as medical research breakthroughs, and advances in the field of medicine, science, and cures for various disabilities.
Thursday, 28 February 2013
The Lion City gets a roar of approval for its many disabled-friendly features.
IT is always very encouraging to note that disabled-friendly facilities are improving and expanding everywhere.
Environmentalist Jeffrey Phang, 57, who had just returned from a weekend in Singapore, was delighted to share with me his wheelchair-friendly encounters down south.
"It has been years since I last visited Singapore. On my recent trip there, I was hoping to get some ideas on how I could introduce more disabled-friendly features in the Kota Damansara community forest," wrote Phang, who is co-chairman of environmental NGO, Friends of Kota Damansara.
"We initiated wheelchair-friendly designs in 2006 through a small grant. It included a special wheelchair accessible canopy with camping and barbecue facilities, and a sandpit where wheelchair-users can roll over and enjoy nature, too. The funds were used for some initial infrastructure groundwork for a wheelchair-friendly toilet and a pathway into the forest."
Phang used his recent trip to Singapore as an unofficial "study trip" to see how it could help him integrate better access for the disabled and senior citizens, in the Kota Damansara community forest and elsewhere.
It was an eye-opening experience. His first stop was at a Mass Rapid Transit station in the island city.
"On approaching the station's entrance, I saw a man on an electric wheelchair coming down a ramp and before I knew it, he had zoomed past me into the nearby supermarket.
"I was impressed at the way people with restricted physical conditions could move about with incredible speed in their powered wheelchairs," said Phang, who is associate professor at Tunku Abdul Rahman University (UTAR) in Kajang, Selangor.
"The ticketing machines have buttons low enough for wheelchair passengers to reach without asking anyone for assistance. There is a special entrance lane for them that is wider and clearly marked with a wheelchair logo.
"The touch-screen system is a great help as users do not have to fumble about to get a slim card into a slot."
Phang was pleased to see stainless steel guiding blocks built into the highly polished floor inside the building.
"It is a brilliant combination of aesthetic beauty and functionality for the sighted and the visually impaired.
"The guiding blocks lead all the way to a lift which is clearly marked for the elderly and the disabled. All other passengers have to use the escalators."
Here are more of Phang's observations:
>
Low glass protective barriers at the entire length of the arrival platform of trains to prevent wheelchairs from accidentally falling onto tracks whilst waiting near the edge. The barriers are synchronised with the trains' doors and open together.
>
The gap between the train and the platform is hardly noticeable, providing smooth access for wheelchairs to get into the train. Inside, there are clear signs of all the train stops in green lighted circles, while the current stop is in red. Deaf passengers have LED displays with rolling messages that constantly keep them informed of audio announcements. Which door will open when the train arrives at each destination is clearly indicated with blinking lights. Blind passengers are guided by clear announcements.
>
Seat rows are designed to accommodate wheelchairs.
>
Toilets in VivoCity shopping complex have sliding doors with soft-touch electronic buttons at the right wheelchair users' level, and a spacious layout with universal design specifications.
>
Visitors with walking difficulties have various options at the Singapore Zoo. Young children who need a pushchair or elderly persons who cannot walk long distances, can hire a battery-driven vehicle. Even a physically disabled person can steer themselves around the zoo.
Phang said his trip made him realise how important it is for everyone to start including disabled-friendly features in the planning stage rather than later when it can be costly.
He pointed out that it is regretful that the people – the disabled, elderly and the poor – who need such facilities are the ones who do not get them.
"As for the Kota Damansara forest reserve, it's time for everyone to realise that nature also belongs to the elderly and the disabled. We realised this when we brought the blind, wheelchair users and special needs children to the forest. A lot more needs to be done to make the forest accessible for everyone.
"In any case, in an aging society, more people will become disabled or less able. If we ignore the issue of accessibility today, we will reap the fruits of our apathy when we get locked out of society in our old age. We will only have ourselves to blame when that happens," Phang concluded.
Source : The Star ( 28th feb 2013 )
Wednesday, 27 February 2013
विकलांग शंभू को आखिरकार रंजू का सहारा मिल ही गया। दोनों ने कर्पूरीग्राम स्थित मंदिर में शादी कर लेने की सूचना थाने में पहुंच कर पुलिस को दी। पुलिस ने बताया कि रंजू के परिजनों ने उसे भगा ले जाने की सूचना दी थी। इस बीच शंभू ने बताया कि परिवार वालों ने पहले उन दोनों की शादी तय की थी। मंदिर में देखने के क्रम वह घबराने के कारण गिर गया, इस कारण लड़की के परिजन उसे ले गए। लेकिन उसने यह बताया कि इसके बावजूद भी रंजू से उसकी बातचीत होती रही। रंजू की पहल पर वह उसे लेकर भाग गया तथा सरस्वती पूजा के दिन कर्पूरी ग्राम स्थित मंदिर में राजी-खुशी से दोनों ने शादी कर ली है। दुल्हन ने बताया कि शंभू गैरेज मे काम करता है तथा जीने लायक कमा लेता है। प्रभारी थानाध्यक्ष गुरुदयाल राम ने बताया कि परिजनों के आने की प्रतीक्षा की जा रही है। रंजू जहां खास टभका दक्षिण पंचायत की रहने वाली बताई गई है, वहीं शंभू समस्तीपुर का।


Source : Jagran , 24th Feb 2013
Cricketers C. Sivakumar and R. Rajesh Kumar. Photo:S. James.
Cricketers C. Sivakumar and R. Rajesh Kumar have done the city proud by qualifying to represent the country against the visiting England team

Footwork, right balance or posture, nothing matters to C. Sivakumar when he is at the crease. He thinks only about outsmarting the rival bowler. When the ball lands in his zone, he gives it a full-blooded hit. It is easy to forget that Sivakumar is affected by polio.
Fiercely competitive, Sivakumar has overcome his physical deformity to succeed in the game. He plays in the Madurai District Cricket Association third division league.
His college-mate and fellow cricketer from Madurai, R. Rajesh Kumar, is no mean performer. He has a slight deformity in his right hand. He bowls left-handed and makes the batsman hop in the crease with his pace.
As there is no avenue in Madurai for the physically challenged to exploit their cricketing talents, Sivakumar and Rajesh play with their friends on regular teams. In fact, Rajesh Kumar represented the Madurai Kamaraj University in the All India University Cricket Championships.
For their consistent on-field performances, both have been rewarded with berths in the Indian cricket team for the physically challenged. They will represent the country in a para cricket series of T-20 matches against the visiting physically challenged team from England. Sivakumar is the vice-captain of the team.
"I am happy, but not surprised," says Sivakumar. "I never thought I was in a disadvantageous position compared to other able-bodied cricketers. I am a regular to the net practice and I was confident of getting selected for the Indian team. Big thanks to the selectors for showing faith in my abilities as a cricketer."
Cricket for the visually challenged is well known but this is a welcome move to organise cricket matches for the physically challenged. The rules are no different, but players who are severely affected are given the liberty to use a by-runner.
Sivakumar gathers runs on his own. "Even during the selection trials," he says, "I ran on my own and that impressed the selectors, I believe."
He is also the secretary of the Tamil Nadu Para Cricket Club, which is striving hard to identify talents across the state.
"We never knew a selection trial is on to pick the team for matches against England," says Rajesh. "We are indebted to physically challenged international athlete and athletic coach Ranjith Kumar, who gave us the lead."
They are the only cricketers from Tamil Nadu to qualify for the event. The Indian team will play a series of exhibition matches in Mumbai, Tripura and Bidar against the respective state teams before playing five T20 matches against the visiting England team in April.
When they're not playing cricket, Sivakumar takes care of the family-run grocery shop and Rajesh works as a mineral water can distributor. What started as a fun sport to keep them engaged has turned out to be their next best career option now. "We have realised our responsibilities and will try to consolidate our position," says Sivakumar.
Says Rajesh, "God willing, if everything goes our way, we will have the chance to play the game at its birthplace."
Source : The Hindu , Madurai ( 27th Feb 2013 )
Railway Minister Pawan Kumar Bansal on Tuesday announced mega development plans including installation of escalators and lifts at select stations, set up cleanliness benchmarks and upgrade stations to the 'Adarsh' (ideal)level.
The minister also announced big plans to make stations disabled-friendly. The railways would install 179 escalators, 400 lifts at A-1 category and major stations to make boarding and deboarding easy for the differently-abled and the elderly. These stations would also be equipped with Braille stickers indicating the position of coaches and toilets. Facilities like wheel chairs and battery-operated vehicles would be made available at more stations.
Executive lounges would be set up at Visakhapatnam, Patna, Nagpur, Agra, Jaipur, Bilaspur and Bangalore in 2013-14.
The rail minister also announced that special attention would be paid to stations in National Capital Region(NCR). `100 crore would be spent to revamp the Delhi, New Delhi and Hazrat Nizamuddin stations. Bansal said the railways will take up foot-over-bridge projects on priority basis, if state governemnts are willing to invest. A funding scheme would be designed for such projects.
Job for Disabled
The railways will carve out a specified number of Jan Sadharan Ticket Booking Sevak posts for the disabled, as the PCOs at stations have largely become irrelevant with the proliferation of mobile phones, the minister said.

Source : the New Indian Express , New Delhi ( 27th feb 2013 )
The Minister of Railways Shri Pawan Kumar Bansal has said that to facilitate the boarding of trains and exit from the stations for the differently-abled and the elderly, the Railways proposes to take several measures. These include provision of 179 escalators and 400 lifts at A-1 and other major stations, affixing Braille stickers indicating the layout of coaches including toilets, provision of wheel chairs and battery operated vehicles at more stations and making coaches wheel-chair friendly.

Presenting the Railway Budget for 2013-14 in Parliament today he said, in order to provide an employment avenue to the disabled people, he proposed to reserve a specified number of Jan-Sadharan Ticket Booking Sevaks (JTBS) for them, keeping in view the fact that the PCOs at stations have become largely redundant after the mobile revolution in India.
Source : Press Information Bureau ( 26th feb 2013 )
The district-level sports competition at the district stadium conducted in four categories
Over 200 took part in the district-level sports competition for the different abled persons held at the district stadium here on Tuesday.
high pedestal:A winner receiving prize from Collector T.Munusamy in Nagapattinam on Tuesday.
The meet, which was inaugurated by Collector T.Munusamy, was held in four categories – physically challenged, visually challenged, mentally challenged and hearing impaired.
For the physically challenged, 50-metre run, 100-metre run, long jump, mini basketball throw and wheelchair race were held, while for the visually challenged 50-metre run, 100-metre run, jumping from standing position, shotput and tennis ball throw were conducted.
For the mentally challenged, 50-metre run, 100-metre run, cricket ball throw, jumping from standing position and shotput were held. For the hearing impaired, 100-metre run, 200-metre run, long jump, shotput and javelin throw were conducted.
Build confidence
Mr. Munusamy said that such competitions helped build confidence among differently abled persons. He distributed the prizes in the presence of T.Basildoss, district sports officer.
Pudukottai
Collector C.Manoharan inaugurated the district-level sports meet for the differently abled persons in the presence of MLA Karthik Thondaiman.
Mr. Manoharan urged the participants to excel at State and national-level competitions too. C.Muthumari, Revenue Divisional Officer, and S.Vanchinathan, district sports officer, were present.
Source : The Hindu , Nagapattinam , Taml Nadu ( 27th feb 2013 )
Railway Minister Pawan Kumar Bansal on Tuesday said that to facilitate the boarding of trains and exit from the stations for the differently-abled and the elderly, the Railways proposes to take several measures.

These include provision of 179 escalators and 400 lifts at A-1 and other major stations, affixing Braille stickers indicating the layout of coaches including toilets, provision of wheel chairs and battery operated vehicles at more stations and making coaches wheel-chair friendly.

Presenting the Railway Budget for 2013-14 in Parliament, Bansal said, in order to provide an employment avenue to the disabled people, he proposed to reserve a specified number of Jan-Sadharan Ticket Booking Sevaks (JTBS) for them, keeping in view the fact that the PCOs at stations have become largely redundant after the mobile revolution in India.

Source : Sify ( 26th Feb 2013 )
Differently abled persons displayed their sporting prowess at the district-level sports competition organised by the Sports Development Authority of Tamil Nadu at the district stadium here on Friday.
More than 300 persons, including students from 16 special schools, participated. The differently abled under the categories of physically challenged, visually challenged, mentally challenged and hearing impaired competed in various sports events, including 50m, 100m running, long jump, mini-basket ball, 100m wheel chair race, shot put, throw ball and javelin throw.
ENTHUSIASTIC:Differently abled children participating in a sports meet in Tuticorin on Friday
.— Photo: N. Rajesh
An athlete S. Soosai Michael, a differently abled person, working in the Department of Civil Engineering, V.O. Chidambaranar Port Trust, here and Member of Tamil Nadu Sports Council of the Deaf, displayed 175 medals and certificates of appreciation.
S. Timothyu, son of Mr. Michael, said the medals and certificates were displayed here to create an inspiration for sports enthusiasts. "My father had represented India on many occasions in athletic events, including javelin, shot put and discuss throw, and won medals", Mr. Timothyu said.
At the valedictory function, N. Thangavel, District Differently Abled Welfare Officer, distributed prizes to the winners.
Source : The Hindu , Tuticorin , Tamil nadu ( 24th feb 2013 )
Although Pitt Online was created only four years ago as a portal for web-based graduate classes, the University is making a major contribution to the field of online education, creating guidelines that soon will help universities nationwide make online courses more accessible to those with disabilities.
The aim of the guidelines is to allow educational institutions to design courses that are accessible to all students. The guidelines:
Review U.S. laws that govern accessibility;
Define applicable terms, such as universal design ("the proactive design of products and environments to be usable by all people, to the greatest extent possible, without the need for adaptation or specialized design");
Outline best online course-design practices for accessibility, such as the need to examine externally linked web sites for their accessibility, and the necessity of assuring that documents provided as part of each course are accessible as well;
Describe the specific job responsibilities of academic teams designing accessible online offerings;
Delineate a recommended quality assurance process, and
Provide other resources and references for the online course-design team.
In addition, the guidelines offer specific accommodation recommendations for text accessibility for students with visual impairment, audio and video adaptations for those with hearing impairments, and other ways to adapt and distinguish course content, make keyboards more accessible, create pages that are most easily navigable and other modifications.
These accessibility-policy guidelines will be distributed this spring by Quality Matters, the Maryland agency that provides services and tools for online course improvement to its 650 member academic institutions across the United States. Staff from Pitt Online, which is part of the Center for Instructional Development and Distance Education, proposed creating the guidelines, and Quality Matters funded the work beginning in 2011.
Students with disabilities shouldn't have to ask for accommodations, says Barbara Frey, a Pitt Online senior instructional designer who led the guideline creation. Over the past five years, she has taught Quality Matters workshops for faculty throughout the United States who wish to improve their online teaching and understand which adaptive technology solutions are best. "You should be able to get everything upfront that you need," she says. "Students with disabilities like the independence."
Frey doesn't know how many students here will benefit from the accessibility guidelines, because Pitt Online has no statistics about how many students with disabilities take its courses. Frey says, "If you're not asking for an accommodation, there's no reason you should have to self-identify to the instructor or to the other students in the class."
Prior to writing the accessibility guidelines, Frey surveyed Quality Matters membership, asking what kind of accessibility resources faculty had and whether their institutions had a specific accessibility policy for online courses.
Says Deb Adair, Quality Matters managing director and chief planning officer: "The results surprised all of us — how relatively few institutions had a policy for accessibility of online courses." Faculty also reported low institutional support for creating or increasing online accessibility.
So Frey, Pitt Online colleague Lorna Kearns, who is a senior instructional designer, and Denise King of Carlow University set to work building what they labeled a "template" addressing issues of online accessibility. "There is a lot of interest in it," says Adair of Quality Matters. "We were very pleased with the final product because it's a really good foundation for institutions, especially ones that don't have anything in place. It's straightforward and has a lot of good resources. Barbara and her colleagues really did their homework."
*
As Frey and Kearns were finishing their work on the online accessibility guidelines last summer, they teamed with Pitt Online's associate director K. Holly Shiflett and program coordinator Erik Arroyo to take a closer review of Pitt Online's own accessibility. Gabe McMorland, a 2011 graduate of the Dietrich School of Arts and Sciences in urban studies, was hired to help assess the current state of Pitt Online for those with visual impairments, and to make recommendations for improvement. He reviewed more than 30 courses, including all that were available in fall 2012.
McMorland's visual impairment — neuropathy — prevents his optic nerves from functioning fully. "I can see big things like furniture, people, trees, but I can't read, because the center of my visual field is gone," he says.
As an undergraduate, McMorland worked with Pitt's Office of Disability Services and has high praise for the staff: "They do a lot of good work." But he says the office's small staff shouldn't have to sort out accessibility problems in online courses after the fact. "It's better to plan ahead."
McMorland is an expert at using the JAWS screen reader on a computer, which also is employed by some of those with other disabilities, such as autism. JAWS — Job Access With Speech, the most common screen reader — reads the HTML code of web pages, so it can read text and label items as buttons or headings, but it has its share of shortcomings. It can't tell what is highlighted by italic or bold text, nor what has been set apart from the main text in a box. It can't read pictures or illustrations, such as charts and graphs, or narrate videos.
But the Pitt team was able to work around those problems. "What was surprising is that most of the solutions were low-tech," McMorland says. "A lot of it just has to do with how the content is laid out, how the content is arranged and labeled." Highlighted words can be turned into a labeled list of keywords, for instance. Headings can point out that boxes are sidebars. Videos can be closed captioned, which should include "stage directions" about the action, he says, or narrated for those with hearing disabilities. Everything can be more specifically and explicitly labeled.
(A video demonstration of McMorland using the screen reader is available online:
http://mediasite.cidde.pitt.edu/mediasite/Viewer/?peid=1a2d9b0cec6e48d1af00881485592667
).
It was a good idea to have somebody who is visually impaired test the courses, McMorland says. Fully sighted computer users may not realize how much they skim and scan when encountering web-based media, such as online courses. "I've seen a lot of examples where people think they've tested content, where they don't really understand what a user experience was like" for those with disabilities — or what such a user experience ought to be like.
Pitt Online courses already were well organized, and all organized in a similar way, which helps screen-reader users learn their navigation, says Shiflett.
However, says Arroyo: "Working with Gabe, it was particularly humbling for myself and some of the group … how much we take for granted."
"'Click here' — we don't use that term anymore," says Frey.
*
Lorna Kearns notes that having all course material accessible at the beginning of the semester also is very important. Students then can review all the material for any special needs that remain.
"Part of making courses successful is to make them accessible on all sorts of devices, platforms and browsers," Kearns adds. "When you design for accessibility, you improve the learning environment for all students," such as those who may need accommodations not based on a disability, including international students. Although McMorland conducted interviews with several other students with various disabilities to detail their experiences with Pitt Online, Frey says the courses have not been adapted yet in ways to accommodate persons with disabilities other than visual and auditory ones.
New courses are being created with these accessibilities as part of their essential design, Shiflett says.
"It's a best practice in online learning to present materials so that they're accessible to as many people as possible," says Frey, "but there are sometimes barriers." She suspects that the necessity to accommodate motor impairment will create the need for future modifications, since this disability is affecting greater numbers of recent military veterans.
Concludes McMorland: "Creating accessible courses is really a conversation that doesn't stop. Technology is always changing, there's always more to learn from the students and from the faculty about what their needs are, and there's always more to teach both groups about what's possible."
Source : University of Pittsburgh ( 21st feb 2013 )
Railway Minister Pawan Kumar Bansal in his rail budget 2013 speech announced some measures and amenities for differently-able passengers. These measures are meant to facilitate the boarding of trains and exit from stations.
There would also be a provision of wheel chairs and battery operated vehicles at more stations and coaches would be made wheel-chair friendly.
"India is a signatory to the UN Convention on the rights of the disabled. We are conscious of our responsibility under the Millennium Development Goals (MDGs)," Bansal said.
To facilitate the boarding of trains and exit from the stations for the differently-abled and the elderly, the steps proposed include provision of 179 escalators and 400 lifts at A-1 and other major stations, affixing Braille stickers indicating the layout of coaches including toilets.
There would also be a provision of wheel chairs and battery operated vehicles at more stations and coaches would be made wheel-chair friendly.
In order to provide an employment avenue to the disabled people, Bansal proposed to reserve a specified number of JTBS for them. This will be done keeping in view that the PCOs at stations have become largely redundant after the mobile revolution in India.
Source : Economic Times . IndiaTimes ( 26th feb 2013)
The railway budget promises to make travel for the disabled and elderly more comfortable and accessible. However, the proposed measures tackle only a part of the problem, say experts. While these measures have been welcomed by disabled rights activists, they say this is just a small beginning.

For Sitaram from Bokaro, whom TOI met at New Delhi Railway Station, the issue is not one of non-availability of wheelchairs or a disabled-friendly coach. He faces a problem in even accessing the disabled-friendly measures already in place.

"Though I was able to make my way to the disabled-friendly coach, I had difficulty boarding it. The train and platform are not at the same level and there is also a gap between the coach and platform," he said. He finds it difficult to walk because of a genetic deformity. "Moreover, I had a lot of difficulty in descending the steps that connect the platforms," he said.

The Railways will increase the number of elevators, escalators and wheelchairs at stations. Braille stickers indicating layout plans of coaches will be introduced and wheelchair-friendly coaches inducted. "It is a welcome decision that for the first time a railway minister has considered coaches in general to be wheelchair friendly. We have been asking for this for quite some time," said Javed Abidi of National Centre for Promotion of Employment for Disabled People. "But there are other issues to be addressed. Ticket booking for the disabled is one of them. Moreover, connectivity between platforms is needed."

Elaborating on this, Abha Negi, director of NGO Svayam, said New Delhi Railway Station could adopt the Agra model. "The platforms are interconnected by big ramps in Agra. The stations in the capital — especially New Delhi Railway Station — do not have that interconnectivity. One has to travel through the passage used by luggage vans which goes across the railway tracks," said Negi.

"Moreover, the basic designs are not properly implemented. For instance, the tactile blocks that guide the visually impaired run into walls, railings etc. Also, the descent to the platform from the escalator is marked by a step without a warning tactile block," she added. She also questioned the station's accessibility for the hearing and visually impaired.

The principal of JPM Senior Secondary School for the Blind , K J Kurian, wondered if the measures will be properly implemented. "Proper designing of these coaches is very important. You may bring more disabled-friendly coaches but whether they adhere to standards and design need to be seen," he said.

Amba Salelkar of Inclusive Planet Centre for Disability Law and Policy highlighted the need for staff sensitization. "The physical equipment is one aspect that the ministry is addressing. But there is a lot of abuse that disabled persons face while travelling. Official sensitization should also be looked into," said Salelkar.

Recently, the Equal Rights Trust Foundation and Human Rights Law Network had carried out a study based on the testimonies of 120 persons with disabilities in 19 states. Based on their testimonies, the group released a set of four recommendations for policy makers. "There is an urgent need to pass the Prevention of Torture Bill with clauses for protection of people with disabilities. Monitoring of institutions and training of police personnel and armed forces should also be made mandatory," Oliver Lewis, executive director of Mental Disability Advocacy Centre, said.
Source : TOI , 27th feb 2013 ( Delhi)
Interactive debate on the work and employment of persons with disabilities
Wednesday, 6 March 2013, 12:00 to 15:00, Room XX, Palais des Nations, Geneva
The next interactive debate on the rights of persons with disabilities will be held at the 22nd session of the Human Rights Council, and will focus on the work and employment of persons with disabilities. The panel and its web cast will be made accessible through international sign interpretation and real time captioning.
Introduction
The human right to work is a fundamental right enshrined in a wide range of international human rights instruments. It is essential for realising other human rights and forms an inseparable and inherent part of human dignity.
The Convention on the Rights of Persons with Disabilities (CRPD) establishes that persons with disabilities have the right to work on an equal basis with others. This includes the right to the opportunity to gain a living by work that is freely chosen or accepted in a labour market and work environment that is open, inclusive and accessible to persons with disabilities. Article 27 of the CRPD requires States parties to take adequate measures to safeguard and promote the realisation of the right of persons with disabilities to work, on an equal basis with others, and to prohibit discrimination on the basis of disability in the field of employment.
Notwithstanding these international normative safeguards, the labour force participation rate of persons with disabilities continues to be low in most countries. When persons with disabilities are employed, they are more likely to be in low-paying jobs, at lower occupational levels and with poor promotional prospects and working conditions. One of the core challenges lies in negative attitudes, stigma and stereotypes of persons with disabilities being in some way "unsuitable" to participation in working life, on an equal basis with others. This translates into continued marginalization and discrimination of persons with disabilities in the area of work and employment, and for many persons with disabilities, denial of their right to work as defined in article 27 of the Convention. In light of this, in its resolution 19/11, the Human Rights Council decided "that its next annual interactive debate on the rights of persons with disabilities will be held at its twenty-second session, and that it will focus on the work and employment of persons with disabilities".
Outcome
The debate will seek to identify good practices in promoting employment opportunities for persons with disabilities, in the public and private sectors alike. It will also contribute to raising awareness of the challenges that persons with disabilities continue to face in employment, and to highlight the measures that States and employers can take with a view to ensuring that persons with disabilities enjoy access to, retention of and advancement in employment on an equal basis with others. Finally, the debate provides an opportunity to highlight the importance of including the rights of persons with disabilities in the post-2015 development agenda.
Agenda
The debate will be opened by Ms. Navi Pillay, United Nations High Commissioner for Human Rights. H.E. Mr. Luis Gallegos Chiriboga, Vice-President of the Human Rights Council, will moderate the discussion.
The panel comprises five experts on the issue of work and employment of persons with disabilities:
Mr. Frederick Ouko Alucheli is the Executive Director of Action Network for the Disabled in Nairobi, Kenya, with a background in political science and business administration. He was elected an Ashoka Fellow in 2012 for his role in creating a barrier-free society for youth with disabilities, both inside and outside of the formal workspace. Within the Action Network for the Disabled, he runs a project that challenges the myths surrounding employability of persons with disabilities.
Mr. Ronald McCallum is Professor Emeritus of the Faculty of Law of the University of Sydney. He chairs the Committee on the Rights of Persons with Disabilities. As a person with a disability since birth, Mr. McCallum has a special interest in increasing employment for persons with disabilities. Having dedicated his professional and academic career to labour and employment law, he was the inaugural President of the Australian Labour Law Association from 2001 to 2009. The Prime Minister of Australia awarded Mr. McCallum the title of Senior Australian for the Year 2011, in part for his work for persons with disabilities.

Ms. Barbara Murray is Senior Disability Specialist at the International Labour Organization, working primarily on disability issues in training and employment. Key elements of her work with ILO have included the development of the ILO Code of Practice on Managing Disability in the Workplace, promoting ratification and implementation of ILO Convention No. 159 concerning Vocational Rehabilitation and Employment (Disabled Persons), and representing the ILO at the negotiations of the Convention on the Rights of Persons with Disabilities. Ms. Murray has worked in the area of disability for over 25 years in Africa, Europe and the Asian and Pacific region.

Mr. Valery Nikitich Rukhledev is President of the All-Russian Society of the Deaf, the aim of which is to promote and protect the rights, including the right to work, of deaf persons and persons with hearing impairments in the Russian Federation. A former board member of the World Federation for the Deaf, Mr. Ruhkledev was involved in the drafting of the Convention on the Rights of Persons with Disabilities, and continues to be active in the promotion of sign language interpretation and the rights of deaf persons in Russia and globally.

Ms. Susan Scott-Parker is the founder and Chief Executive of the Business Disability Forum, the world's leading enterprise membership 'federation' working to the mutual benefit of businesses and persons with disabilities. Ms. Scott-Parker is currently working with GlaxoSmithKline to establish a Global Business Forum which will enable multinational corporations to understand how managing disability as a civil and human rights priority benefits business, people with disabilities and the societies in which they operate.
Source : Office of High Commissioner for Human Rights ( ohchr )
Whenever Roland Arndt tells people he still plays hockey he tends to get a similar reaction.
"They're just amazed," he said. "And they're just shocked I'm still playing."

For Arndt, a 51-year-old Ojibwe, that's got nothing to do with his age. Instead what most people marvel at is the fact he still laces up the blades for weekly matches though he is legally blind.

Arndt, who lives in Toronto, has Stargardt disease, an inherited juvenile macular degeneration disease that causes progressive vision loss.
He started losing his vision in his late teens and now has between only 8-10 percent vision in both eyes.
In many countries, including Canada, people are considered to be legally blind if they have 10 percent or less vision.
Arndt played a few seasons of hockey as a youth. And even though he was losing his vision he continued to play in adult leagues for a number of years before he was forced to give up the game about a decade ago as it was becoming too dangerous for him to play.
Then, seven years ago, Arndt heard about the Toronto Ice Owls, a hockey team of blind and visually impaired players. He was drafted and has been a member of that club since.
The Ice Owls, and other teams of blind players in Canada, utilize a special puck, which is about six inches in diameter and about an inch and a half thick.
Various versions of the puck exist. Some have been made from the tires off of barbecue stands while others are from children's Tonka truck toys. All the pucks though also have pieces of metal hardware, such as nuts and bolts (sometimes piano keys), inserted inside of them to make noise so players with limited vision can better hear where the puck is on the ice when it is moving.
Canadian blind hockey officials are hoping their sport will one day be included in the Paralympic Games. But in order for that to happen, the sport will have to start being played in more countries.
Besides Canada, it is believed that Sweden is the only other country where blind hockey is currently played.
Arndt is shocked the sport is not played anywhere in the United States.
"That really does surprise me," said Arndt, who works as a recreation and activity co-ordinator at a Toronto senior citizen's residence.
As for Canada, the sport has even held four national championship tournaments. The most recent one was held in Toronto this February 15-17, at the former Maple Leaf Gardens, which is now called the Mattamy Athletic Centre.
A total of 45 players from across the country took part in this event. In an effort to balance the participating clubs, tournament organizers split up players from various parts of the country and put them on different teams.
The four tournament entrants were named after Canadian franchises in the National Hockey League: Maple Leafs (Toronto), Canadiens (Montreal), Senators (Ottawa) and Canucks (Vancouver).
Arndt suited up for the Senators, who captured the bronze medal in the tournament. They defeated the Canadiens 5-0 in the third-place match.
For Arndt this marked the third consecutive year he had participated in the nationals. He was a member of the gold-medal winning side at the tournament staged in Montreal two years ago. And he won a silver medal at the 2012 championships in Quebec City.
"Now I have one of each," Arndt said of the three different colored medals.
As for the Ice Owls, they play a game per week, from October through March. Though they don't compete in a league their schedule consists of rotating contests against four different sighted squads.
"We make them follow our rules," Arndt said of the Ice Owls' opponents.
The rules include having teams make at least one pass in the offensive zone before being allowed to score a goal. This prevents players with a bit more sight from making end-to-end individual rushes.
Also, to help goalies follow the puck better, players are not allowed to score a goal in the top third of the net (in other words, no high shots allowed).
"I love it," Arndt said of his appearances with the Ice Owls. "I look forward to it every week."
The Ice Owls' players range in age from 19-73. And Arndt, a right winger, said he's considered somewhat of a sniper.
"I'm usually good for a goal per game," he said.
His limited vision though does also create some anticipated difficulties.
"I try to avoid losing the puck in my skates because then I have a hard time trying to find it," he said. "But if I can keep the puck in front of me and on my stick I'm usually okay."
Arndt is an avid fan of the sport and he watches NHL games as much as he can. But his favorite team is not his hometown Maple Leafs.
Instead, he prefers to cheer on the Boston Bruins.
As for his favorite player? Arndt said that individual is retired -- former Bruins' star forward Cam Neely, who is now president of the Boston franchise.
Arndt, however, has no plans to retire any time soon.
"I'm going to keep playing as long as I can," he said.
Source : Indian country today media network ( 27th feb

2013 )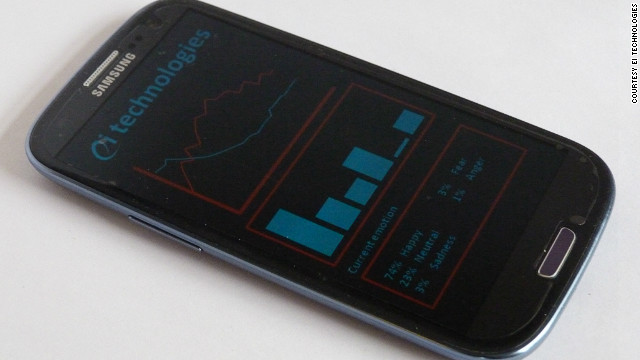 A British firm is developing an app that will allow smartphones to track their owners' moods through their speech patterns, in the hope it can improve aspects of mental health treatment.
The app, known as Xpression, will record the user's voice throughout the day, whether they are making a phone call or not, analyzing the acoustics for emotional content.
Matt Dobson, co-founder of EI Technologies, said the app was designed to provide a more objective, reliable record of patient's emotions than "mood diaries" currently used in the treatment of people with anxiety, depression or stress.
"Over half of adults in the UK suffer from severe stress once or twice a week so there's a lot of opportunity in the market," he said.
"I wanted to know: could we bring something into the market that would help people sort out their stress and depression and anxiety? ... I found that voice-based recognition was something that would work on a smartphone."
Psychologists often ask patients to keep track of changes in their emotional state by noting them down in mood diaries, he said, but medical literature suggests only 30-50% of patients provided enough information in their diaries to be useful in treatment.
"This replaces that old technology. This is the turbo-charged version of manually recording your emotions," he said.
Tracey Parsons, a clinical psychologist working as clinical adviser on the project, said the major problem with mood diaries was that people simply don't fill them in.
"They don't believe they'll be useful and it's too much of a hassle, or they're so unable to recognize their own feelings that they struggle to complete them," she said.
The app, which would activate when it recognized the user's voice, would provide the patient and psychologist a more complete record of changes in emotion and mood, allowing the patient to get a better sense of their emotional triggers.
"It's useful to have that to allow you to think: 'How did I react? What was I thinking? Why did I get so angry about it?'" says Parsons.
"This would allow for more effective use of mental health services, making the app a potentially attractive proposition for health systems around the world," she said.
The app does not record the speaker's words, said Dobson, but rather monitors the acoustic elements of their speech -- such as volume, intensity, pace and pitch -- to take an emotional reading.
"We look for acoustic features within your words. We don't know what you're saying," he said.
Snapshots of the user's acoustic patterns were sent to a remote server, where the user's emotional state would be calculated by a machine-learning system.
Professor Stephen Cox, head of the speech processing laboratory at the University of East Anglia and scientific adviser to the project, said the technology was made possible due to advances in machine-learning algorithms.
"This is an area called paralinguistics where one is extracting things from the voice which are not said verbally but convey meaning -- one being emotion," he said.
"All we need to do is collect lots of angry speech or happy speech. We show them to the classifier and the algorithm sorts it out."
Dobson said one of the biggest unknowns facing the project was how willing patients would be to expose themselves to constant monitoring through their phones -- even though only data relating to the acoustics, rather than the words themselves, would be recorded.
"What we don't know is: 'How intrusive is that? What's the trust required to do this?'"
However, he saw the app as belonging to a group of existing smartphone products that monitored the human body, such as jogging or sleep monitors, which had gained widespread acceptance. The apps were a product of the "Quantified Self" movement, which saw users employ self-tracking technologies to gain a better sense of how their bodies responded to different inputs.
He said if a consumer version of the app was released, targeting those interested in self-tracking, it could hit the market in the second half of the year. An app suitable for use by mental health services would take a little longer due to testing requirements, he said.
Source : Edition CNN , London ( 26th feb 2013 )
A joint circular issued by commerce and transport and women and child development departments

All collectors and regional transport officers (RTO) have been asked to strictly enforce the provisions of allowing fare concession and seat reservation for physically challenged persons in all government and private buses plying in their respective areas including inter-State buses.
In a joint circular issued by both commerce and transport and women and child development departments, collectors and RTOs have been further instructed to take exemplary action against persons violating the provision. It needs to be mentioned that the State government has allowed 50 per cent to 100 per cent concession of fare in all the government and private buses plying in the State.
Persons with total blind, mentally retarded and orthopaedically challenged with 50 to 100 per cent bodily deformity are entitled to get 100 per cent concession while their escorts should get 50 per cent concession. Immune deficiency (HIV/AIDS) persons will be getting 100 per cent concession.
According to the circular, free luggage up to 15 kgs per person has been allowed. However, every additional 20 kg luggage shall be charged at 7 paise per km.
The two departments said since this element of concession had been factored in to bus fare structure, it was obligatory on part of all buses to allow this concession to all eligible persons.
However, physically challenged persons would have to produce identity cards for availing the concession.
Similarly, it has been clarified that two seats near the door preferably seats behind conductor's seat be kept reserved for physically challenged persons.
Source : The Hindu , Bhubaneshwar ( 27th feb 2013 )
The state government has asked all district collectors and Regional Transport Officers ( RTO) to strictly enforce the Governmental provisions of allowing fare concession and seat reservation for physically challenged persons in all Government and private buses plying in their respective areas including intestate buses.
Following orders of Govt. as per the Motor Vehicle Act, 1988, secretary commerce & transport G Mathivathanan and secretary W&CD Arati Ahuja in a joint circular have told the collectors and RTO's that complains are being raised against the conductors on allegations of not allowing the concession to physically challenged persons in many cases.
It has been made clear that the government has allowed 50 to 100% concession (depending on type of Physical challenge) of fare in all the government and private buses playing in the state.
In addition to this free luggage up to 15kgs per person has been allowed.
However, every additional 20 kg luggage shall be charged at 7 paise per km.
It has been clarified in the directions that since this element of concession has been factored in to bus fare structure, it is obligatory on part of all buses to allow this concession to all eligible persons.
The physically challenged persons will avail identity card or authenticated proof from the competent authority viz. concerned Block Development Officer, Executive Officer/Commissioner of NAC/Municipality/Corporations or District Social Welfare Officers.
The persons with immune deficiency may avail the proof form State AIDS cell.
The conductors of all busses have been directed to allow the concession instantly at notified rate on production of identity card/ authenticated proof by the physically challenged person.
Similarly, it has been clarified that 2 seats near the door preferably seats behind conductor's seat be kept reserved for physically challenged persons.
Whenever any physically challenged person boards the bus said seats should be vacated and given to him/her.
It has also been warned that disobedience to this order will lead to strict action as per the law which may range up to imposition of heavy penalty, cancellation of route permit, cancellations of license etc.
The collectors and RTO's have been asked to take necessary steps for writing of these entitlements in busses, bus stands and other public places for empowering the physically challenged persons and for information of all the bus owners and conductors.
Source : India Education Diary ( 27th Feb 2013 )
A robot suit that can help the elderly or disabled get around was given its global safety certificate in Japan on Wednesday, paving the way for its worldwide rollout.
The Hybrid Assistive Limb, or HAL, is a power-assisted pair of legs developed by Japanese robot maker Cyberdyne, which has also developed similar robot arms.
A quality assurance body issued the certificate based on a draft version of an international safety standard for personal robots that is expected to be approved later this year, the ministry for the economy, trade and industry said.
The metal-and-plastic exoskeleton has become the first nursing-care robot certified under the draft standard, a ministry official said.
Battery-powered HAL, which detects muscle impulses to anticipate and support the user's body movements, is designed to help the elderly with mobility or help hospital or nursing carers to lift patients.
Cyberdyne, based in Tsukuba, northeast of Tokyo, has so far leased some 330 suits to 150 hospitals, welfare and other facilities in Japan since 2010, at 178,000 yen ($1,950) per suit per year.
"It is very significant that Japan has obtained this certification before others in the world," said Yoshiyuki Sankai, the head of Cyberdyne.
The company is unrelated to the firm of the same name responsible for the cyborg assassin played by Arnold Schwarzenegger in the 1984 film "The Terminator".
"This is a first step forward for Japan, the great robot nation, to send our message to the world about robots of the future," said Sankai, who is also a professor at Tsukuba University.
A different version of HAL — coincidentally the name of the evil supercomputer in Stanley Kubrick's "2001: A Space Odyssey" — has been developed for workers who need to wear heavy radiation protection as part of the clean-up at the crippled Fukushima nuclear plant.
Industrial robots have long been used in Japan, and robo-suits are gradually making inroads into hospitals and retirement homes.
But critics say the government has been slow in creating a safety framework for such robots in a country whose rapidly-ageing population is expected to enjoy ever longer lives.
Source : The Raw Story ( 27th feb 2013 )
The Palamu district administration which was paying pension to two visually impaired youths stopped it and after claiming that the records showed that they were dead.

The two youths, 22-year-old Shiv Kumar Bhuiyan and 18-year-old Chandan Bhuiyan of Lesligung block in the district learnt from their panchayat that their pension was stopped recently, Block Development Officer Md. Aftab, told reporters today.

The youths were approved pension under the Jharkhand government's Swami Vivekananda Viklang Pension of Rs 710 per month each, but their names were enlisted under the old age pension category, Aftab said.

The youths were entitled to pension under the Swami Vivekananda Viklang Pension and not old-age pension, which they received for quite some time, he said.

The pension was stopped as according to the records the two youths had died two years ago, he said.

Aftab said he would apprise top district officials about the matter.


Source : business Standard , medidinagar , jharkhand ( 27th Feb 2013 )
When he was three years old,
Josh Tutin
from Bristol, UK was diagnosed with a severe autism which led doctors to conclusion that he will likely never go to a regular school. A year later, his mother
Renitha
read that playing a musical instrument might help, so she started giving Josh piano lessons.
With a lot of hard work, Josh is now a happy 10-year-old who goes to a regular school and loves playing piano, which apparently had a role in the improvement of his condition.

Latest researches have recently indicated that children can outgrow their autism symptoms, and it seems that little Josh is a good example. But doctors also stress that it is impossible to fully outgrow autism, with even Josh's mother pointing out that it is a condition for life.
"
Children don't grow out of being autistic, but some can learn to live with it. In Josh's case it has taken a huge amount of hard work to get us to where we are now and he still has support with his lessons
."
Psychology professor
Richard Hastings
from Bangor University says that is is "
misleading
" to suggest that this proves as evidence, but finds the new studies "
interesting
".
"
You can never say never because we don't completely understand the nature of autism. At the moment it is still very unclear why it happens, and until you can be clear about that, it is hard to work out whether 'recovery' might be possible
", the professor tells Daily Mirror.
Although no cure is still found, the situation has given all the affected families and individuals a glimpse of hope for better days to come.
Source : Ultimate Guitar ( 27th feb 2013 )
A specific brain abnormality, present in low-birth weight newborns, has been linked to an increased risk of autism later in life by researchers at Michigan State University (MSU).
The study, which has been published in the latest edition of the
Journal of Pediatrics
, found these undersized children are seven times more likely to be diagnosed with the neurodevelopmental disorder at some point in their lives if an ultrasound taken shortly after birth shows they have enlarged ventricles – cavities located within the brain that store spinal fluid.
Lead author Tammy Movsas, a clinical assistant professor of pediatrics at the East Lansing university and the medical director of the Midland County Department of Public Health, and colleagues believe their findings could open the door for early detection of the somewhat mysterious condition.
"For many years there's been a lot of controversy about whether vaccinations or environmental factors influence the development of autism, and there's always the question of at what age a child begins to develop the disorder," Movsas said Monday in a recent statement.
"What this study shows us is that an ultrasound scan within the first few days of life may already be able to detect brain abnormalities that indicate a higher risk of developing autism," she added.
In research supported by a National Institutes of Health (NIH) grant, Movsas and her associates analyzed data from a group of more than 1,100 low-birth weight infants born during the mid-1980s. All of the children had received cranial ultrasounds following birth, allowing the team to study the results for a link between brain abnormalities during infancy and adverse health conditions that surfaced in the years ahead.
Each subject received autism screenings at the age of 16, the university said, and some of them also underwent more rigorous examinations five years later. Those examinations led to 14 positive autism diagnoses, the researchers said, and the ventricular enlargement – which is more common in premature children than in babies that go full-term – could indicate a loss of the brain tissue type known as white matter.
"This study suggests further research is needed to better understand what it is about loss of white matter that interferes with the neurological processes that determine autism," explained MSU epidemiologist and study co-author Nigel Paneth. "This is an important clue to the underlying brain issues in autism."
Source: redOrbit Staff & Wire Reports - Your Universe Online Via Red Orbit ( 26th feb 2013 0
For children with autism, trained dogs may offer not only a furry friend, but some therapeutic benefits, too, a new research review finds.
There is a "substantial body of evidence" that dogs act as "social catalysts," even encouraging adults to be a little friendlier to each other, said senior researcher Francesca Cirulli, of the National Institute of Health in Rome, Italy. And the few studies that have focused on kids with autism suggest the same is true for them.
People have long turned to animals as a way to help with health conditions or disabilities -- either as part of formal therapy or to offer everyday assistance (such as guide dogs for the blind).
In some cases, "therapy" or "service" dogs are called into action to help children with autism spectrum disorders (ASDs) -- a group of developmental brain disorders that hinder a child's ability to communicate and interact socially. ASDs range from the severe cases of "classic" autism to the relatively mild form called Asperger's syndrome.

In the United States, it's estimated that about one in 88 children has some form of autism.
Yet there has been little research into whether trained dogs actually benefit those kids. The good news is, the existing evidence is promising, according to the new review, published in the February issue of the Journal of Alternative and Complementary Medicine.
However, "it is early to draw final conclusions," said Cirulli.
Specifically, Cirulli's team found six published studies of dogs' effects on children with an autism spectrum disorder. Four of them looked at therapy dogs -- dogs that therapists use during formal sessions to help children settle in, get engaged and be more open to communicating.
Overall, the studies were positive, Cirulli and her colleagues found.
In one study of 22 children, for example, kids were more talkative and socially engaged during therapy sessions where a dog was present. In another study, of 12 boys, the children were less aggressive and smiled more when their therapy session included a canine companion.
Two studies focused on service dogs -- trained dogs that live with the family. The animals serve mainly to keep kids with autism safe; when the family goes out, the child will be literally tethered to the dog to keep from running off or getting hurt.
"That can be a huge relief for families," said Dr. Melissa Nishawala, medical director of the Autism Spectrum Disorders Clinical and Research Program at NYU Langone Medical Center in New York City.
Parents' anxiety over their child's safety can lead to social isolation in some cases, noted Nishawala, who was not involved in the study. "Your world can get very small," she said, "because you limit where you go."



Source : Webmd ( 26th feb 2013)