Members of the Physically Handicapped Persons Association staged a protest against the government at Ambedkar Chowk here today.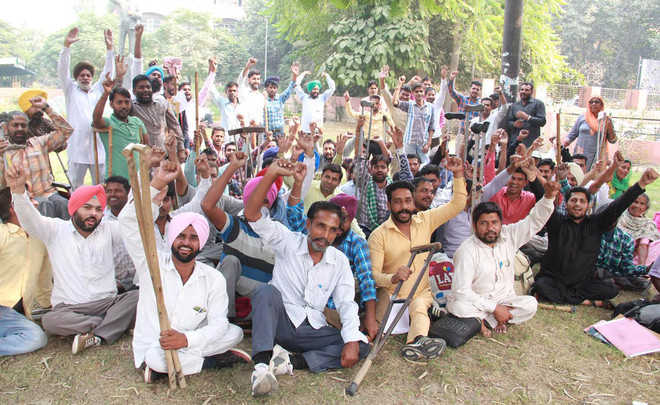 They also threatened to intensify their agitation against the Punjab and Union governments if their demands were not met. The association is demanding employment for educated physically-handicapped persons. It has also accused the government of turning a blind eye towards the welfare of the physically handicapped.

Raising slogans against the state government, the members alleged that as the politicians made lofty promises of ensuring free education and medical facilities to them to curb the problems of illiteracy and poverty, their fundamental rights were also being taken away. "Even after 64 years of gaining independence, politicians pay little attention to the rights and demands of the physically handicapped persons," said Balwinder Singh, leader of the association.


The members also threatened that if the state government did not announce favourable policies as per their needs and not drafted according to their demands, they would be left with no option but to launch an agitation against the government. Adamant on their demands of opening 5,000 posts for the physically challenged, employment as per their ability and qualifications and an increase in pension amount up to Rs 3,000 per month of physically challenged persons, the union members vowed to make the public aware of how false promises were made to them during a panel meeting held with Chief Minister Parkash Singh Badal on June 18.


They further stated that there were about 12 lakh physically challenged persons, out of whom 60 per cent have complete documents regarding their disability but the government had failed to increase the amount of their pension. Balwinder said the government had been spending crores on its advertisements but it had failed to increase the amount of our pension despite the fact that many of handicaped persons were living hand-to-mouth. "We are demanding that the education and health facilities should be provided free of cost to physically challenged and their children," he added.



Source : Tribune News Service , 26th Oct 2016