Despite being born without limbs, Craig Dietz would not trade his life experiences for anything in the world.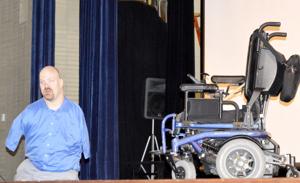 Motivational speaker visits DuBois
Craig Dietz, an athlete and attorney originally from St. Marys, who was born without limbs, speaks to students at DuBois Area High School.
That's one of several messages motivational speaker Dietz had for DuBois Area High School students Wednesday.
"Now I know there are a lot of people out there that would think being born without arms and legs would be just about the worst thing that can happen to a guy," Dietz said. "But I'm here to tell you that after living 40 years of this life, if tomorrow, I were to make the acquaintance of a magic genie, and he were to offer me the ability to start my life anew with a fully functional set of limbs, but the only caveat would be that I would lose all my memories of this life, without hesitation, I would tell him no thank you.
"Because, for me, it's been being the way I am that has led me to have some really fantastic experiences in my life and meet some really amazing people," Dietz said. "I wouldn't trade those experiences or trade those acquaintances for anything in the world."
Source: The Courier Express, 30th Jan 2015