A free employment training camp will starts on Saturday (17th May) at Chennai State College in Kamarajar Road. This training program is specially designed for physically challenged people who have completed either the Bachelor or Master degrees.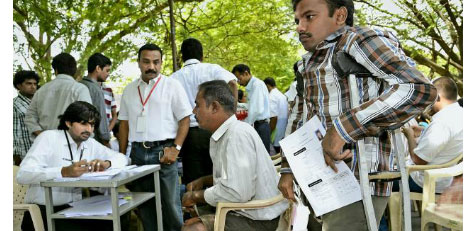 The Chennai Rotract club and L.C. Nagaipatinam, an association for physically challenged, conjointly organizing this employment training camp for physically challenged.
In State college, this camp will be accomplished in the Paval Auditorium from morning 9.30 am to evening 4pm and the admission is free of cost.
This camp provide training for the specials to get into the job opportunities in various fields including Information Technology, bank, finance, commercial trade, insurance , treating services and so on.
Interested candidates can contact the program organizers on or before May 15, to register their names for this program via phone or through mail.
Program Organizer's Details:

Professor K. Rahu Ram – 9840018012, rcdrishti@gmail.com
S. Ashok Kumar - 9842919357, lcprojectnp@gmail.com
Mr. Mari Muthu - 9840915796,

Email : marimuthushanmugam14@gmail.com
Source : Live Chennai , 13th May 2014