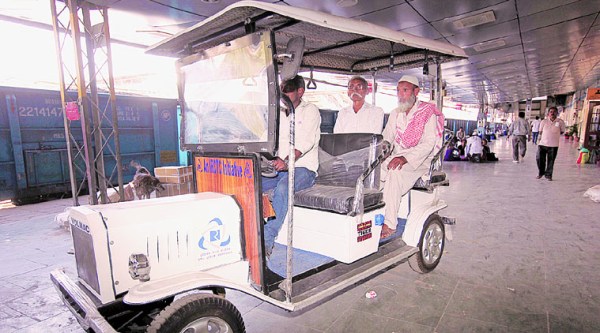 Golf cart introduced at Chandigarh railway station for senior citizens and disabled on Friday, May 22 2015. Express photo by Jaipal Singh
*********************************************************************************
Coming to the aid of senior citizens and physically challenged at the Chandigarh Railway Station, the Northern Railway has deployed an electric golf cart to ferry commuters on the station premises.
The car, being operated by the Indian Railways Catering and Tourism Corporation, will be parked at the end of platform number 1, close to the ramps, and will be available free of cost.
"It has been observed that the elderly and the differently abled find it difficult to walk on the platforms. To minimise their inconvenience, electric four-seater carts will be deployed exclusively for them," A K Kathpal, Divisional Railway Manager, Ambala Division, said.
The move comes as a relief for many people who suffered due to the erratic functioning of the escalators at the station and had to use the stairs instead.
Ahmed Nabi, 63, a passenger, welcomed the move and said it would improve the image of the local station. "On my last visit, I could barely climb the stairs. Left with no alternative, I asked a passerby to lift me on his shoulders and help me clear the difficulty. The golf cart facility eased my burden. The railways should keep one on each platform to ensure that the maximum number of people can avail the service."
Source: The Indian Express, 23rd May 2015