Eco-friendly battery-operated golf carts will start running on four restricted roads in the city from May-end.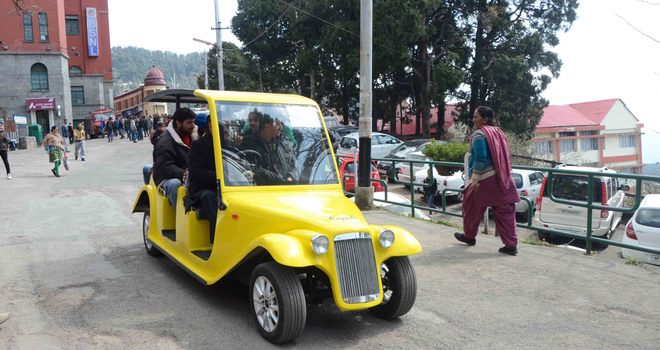 A battery operated golf cart on a trial run in Shimla.
Sixteen carts with a sitting capacity of 9-13 persons will run on level roads from the Ridge to Sanjauli, Central Telegraph Office (CTO) to Boileauganj- Summerhill, US Club to St Bede's College (Navbahar) and Willows Bank to Chhota Shimla. The fare will be Rs15
As public transport and taxis are not allowed on the sealed and restricted roads and HRTC taxis have ceased operations, golf cart will be a big relief for senior citizens, physically challenged people and women who will get 60 per cent reservations on this mode of commuting.
The Commissioner, Shimla Municipal Corporation, and Project Director visited Jalandhar two days back and after finalising the model, orders have been placed for golf carts and the service start in the last week of May after the date of inauguration by the Chief Minister was finalised, MC Mayor Sanjay Chauhan said.
The operation of golf cart manufactured by Jalandhar firm has been outsourced by the MC.
"We will start the service with a fleet eight carts and later another fleet of carts will be added and the number of passengers can also be increased by increasing the number of batteries to take more load. These women-driven carts can run at a speed of 20 km per hour as fixed by the court and 60 per cent seats be reserved for the disabled, senior citizens, women and children.
"The battery of the vehicle is re-chargeable and can traverse 60-80 km at one go without charging the battery. "We will provide a facility to recharge the batteries at key points to the service operator in different points of the city", the Mayor added.
The trial run, conducted by the Municipal Corporation on March 6, was successful as the cart easily moved up and down the hills in the capital.
Source: The Tribune, 9th May 2015