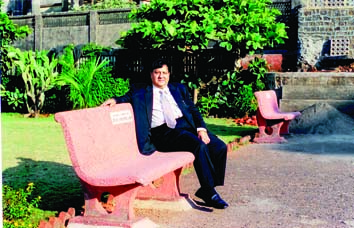 One always wondered about the ubiquitous pink benches in the city with a plaque bearing the inscription of 'Durgadevi Saraf Trust' and 'Ghanshyamdas Saraf Trust'. One wondered who was behind these three-seater RCC (reinforced cement concrete) seats and how many of them are around. One was immensely pleased to find all the answers to these questions in the Limca Book of Records.
Outdoing himself
Talk about beating your own record! Mahavirprasad Saraf, the founder and trustee of the trust, has been doing the deed since 1995 and is responsible for the 20,089 (and an additional 25 after the record was marked) benches across the length and breadth of the city, beating his own previous records. Starting with benches installed at the morgue at Cooper Hospital two decades ago, what began as an effort to provide relief to family and friends of the deceased has now become his mission to offer respite to all Mumbaikars. With 50 per cent of these benches being located in the suburbs where Saraf resides, he focuses on being able to extend his philanthropy throughout.
The joy of giving
The genteel demeanour of the octogenarian reflects his compassion. "I find great pleasure in the joy of giving," he shares, "When you see people in need whose eyes reflect their sorrow, finding a way to help them is the best thing to do." Saraf's Trust not only aims at aiding tired citizens in public spaces but also fulfills welfare initiatives for women, children, education, health care, sports, art, literature and culture, rehabilitation for the physically-challenged as well as the visually-impaired.
"I feel it's a very generous act," says Khushi Budhwani, a regular visitor of the Gandhigram Udyan in Juhu where the benches have been installed, "Hundreds of people use those benches daily and they have added value to the park as a place for people to get together and socialise." Shoeb Hasan, an MBA student from Andheri, shares, "These benches have contributed to the identity of the city. I sat on one waiting for a train at Mahim station. When I alighted at CST, I saw the same benches. They are everywhere."
On her commute to Nariman Point via Prabhadevi, Deepika Goyal, a freelance event planner loved looking on to Worli Sea Face, often stopping by just to take in the view. "I loved sitting on the benches for hours in my free time to be with myself. It's a great facility for people like me who want some alone time," she says. Shoeb Hasan an MBA student shares, "These benches have contributed to the identity of the city. I sat on one waiting for a train at Mahim station. When I alighted at CST I saw the same benches. They're everywhere."
Other than his recognition for installing the benches, Saraf has received 42 awards along with the blessings and heartfelt gratitude from people across the city. The retired businessman dedicates all his time to the trust with confidence that his three sons will carry forward his legacy of selfless giving. One looks forward to such acts of kindness that strengthens faith in humanity.
Source: DNA , 8th May 2015