Touchscreen automatic ticket-vending machines and golf carts for elderly and physically challenged passengers remain underutilised at the local railway station.
The railway authorities had deputed staff to assist passengers in operating four touchscreen automatic ticket-vending machines at the railway station. However, after a passage of time the trained staff were removed and since then the machines were lying underutilised.
People were unable to operate the machines in the absence of any help from officials. Consequently, serpentine queues still can be seen in front of ticket-booking windows while the machines were lying unused.
Two of the machines are installed at the general waiting hall while the remaining two at the reservation lounge on the Gol Bagh side.
A resident, Dr Charanjit Singh Gumtala, while applauding the efforts of the Railways said a couple of these machines could be installed at different sites in the city.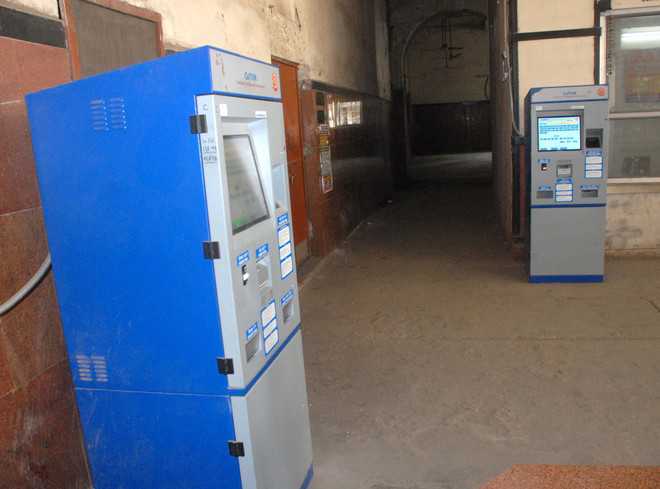 He said this would help in decongesting the railway station. With the holy city being visited by thousands of pilgrims daily, these machines would help them to secure tickets for their journey conveniently.
He said a machine should be installed inside the Golden Temple Complex also.
High number of passengers and limited number of ticket windows have been the biggest drawbacks in facilities at the railway station.
One can get tickets after giving the entire information and depositing the requisite amount in ticket-vending machines. Besides, passengers can also get a smart card issued from ticket-window clerks after depositing the requisite amount. The same card can also be recharged.
A battery operated vehicle can be seen parked in a room on the platform while there is no signage for the ailing, and physically challenged passengers and their relatives to know about its whereabouts.
However, railway officials said whenever they notice rush of ticket booking customers, they deploy officials around the touchscreen ticket-vending machines.
They said the battery operated car could not be allowed to park outside, fearing maltreatment.
Source : Tribune India , 3rd Feb 2016