******************************************************
Anil Aneja, Associate Professor at Delhi University won the National Award for Empowerment of Persons with Disabilities this year. In a chat with Sanchayan Bhattacharjee he talks about his recent work and the playing field for disabled persons

*******************************************************

Recently, Delhi University installed a special technology to help visually-impaired students. Please tell us something about it: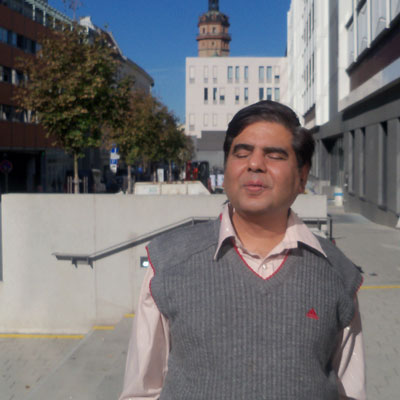 One of the biggest challenges faced by the visually-impaired, both students and teachers alike, is print access. They find it very difficult to access libraries. This recent technology, which is part of the "Inclusive Print Access Project', can be used to scan library books and convert the text to speech. Thus visually-impaired students can access any book in the library without human help.


How does this technology work?


A camera scanner which is mounted on a stand is attached to a computer equipped with headphones. All the student has to do is place the book (only English language) under the scanner and keep turning the pages while the computer translates the text into speech. There are also options like dictionary, bookmarking etc. available to help students. A 200 page book takes approximately half an hour to be scanned, after which the students can share the audio file with others.


Tell us something about your work in the past


Our organisation filed a Public Interest Litigation (PIL) against the Punjab National Bank in 1999 against the denial of promotions to all visually-impaired employees from stenographers to officers. As a result, a number of such employees can now become officers in banks across the country. We also filed PILs against Indian Railways, Reserve Bank of India and other corporations for non-observance of the reservation scheme mandated under the Persons With Disabilities Act.


How would you describe the current scenario for disabled persons?


We have definitely moved ahead as compared to where we were. When I was studying, there was no facility to access study material; I was also turned down by a principal for a teaching job because of my disability. Now the situation is much better as different academic and professional organisations give special focus to inclusion. However, a lot of work still needs to be done because when you talk of equality and inclusion, even 99% is not enough. It has to be 100%.

So where are we lagging behind?


As with most other issues in our country, we have laws, legislations, policies etc. in place but the implementation is lacking. Also the attitude of looking at disability as a negative factor in a person needs to change in order to promote inclusiveness and independence. Nowadays, nothing much can be done without technology, and the lack of it in rural areas is a major impediment towards inclusion of disabled people in the mainstream.


What about the role of the government and private sector?

In India, most of the work in this sector is done by Non Governmental Organisations (NGOs). Yes, the private sector does help but mostly they have their own agendas. They may be selective while helping since many of the corporate houses have their own NGOs.


The government is doing a significant amount of work considering the constraint in resources. Obviously it is not enough. The University Grants Commission is certainly not giving enough assistance to institutions right now. The punitive actions for non compliance of PWD Act norms also need to be more severe.



Source: DNA India , 1st Jan 2015